The quick answer is yes.
But there are a few things you need to keep in mind.
Nothing guarantees 100% protection.
Masks should be used in additional to these guidelines:
Stay home as much as possible.
Keep social distancing and stay 6ft away from others while running necessary errands.
Wash your hands frequently and after every outing with soap for 20+ seconds.
How do masks protect us from Coronavirus?
Masks are effective at capturing respiratory droplets, which is a main transmission of coronavirus.
Respiratory droplets are generated when a person with the coronavirus exhales, coughs, or sneezes. These droplets can land on various objects and surfaces.
You can contract the virus if you breathe in these droplets or by touching a contaminated object or surface and then touching your eyes, nose, or mouth.
Masks protect you from touching your face when you are in public places and possibly being exposed to coronavirus. It also helps us protect each other by containing any sneezing or coughing.
This is especially important as recent studies show individuals can transmit coronavirus before showing any symptoms and a significant portion of individuals with coronavirus lack symptoms all together.
types of masks, when and how to use them?
There are 3 main types of face masks:
Cloth face mask
Surgical mask
N95 respirator
Below we go over each type in more detail and show you how and when to use them.
cloth face masks
Think of homemade cloth masks, bandanas, sun masks, fishing masks, etc. You may already have one in your closet or have fabric that you can use to make your own.
If not, we have an eco-conscious option for you: MG Sun Masks.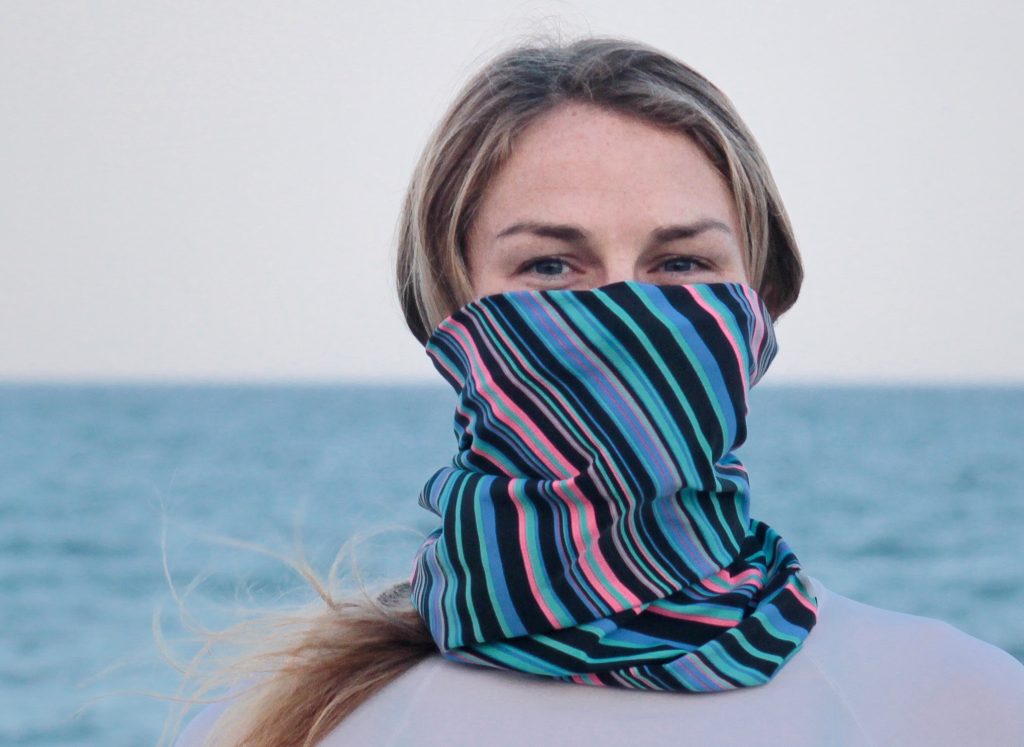 The Centers for Disease Control and Prevention (CDC) is now recommending that everyone wear cloth face masks while in public places where maintaining a 6-foot distance from others is difficult and where you will have to touch surfaces that could have been exposed to coronavirus.
This precaution will help prevent the spread of the virus from people without symptoms, along with continued social distancing and proper hygiene practices.
Recommendations include:
Wear a cloth face mask in public places, especially in areas of significant community-based transmission, like grocery stores and pharmacies.
Surgical masks and N95 respirators are critical supplies that must be reserved for healthcare workers and medical first responders. Wear a cloth face mask instead.
NOTE: Wash your cloth mask after every use. Wash your hands before removing it and be careful not to touch your eyes, nose, and mouth.
EXTRA Benefits of CLOTH face masks
Cloth masks can be washed and re-used! No unnecessary waste from disposable masks! 
They help reserve the medical grade masks for those who need it the most, healthcare workers and 1st responders.
Unlimited supply: there are many companies that make cloth face masks. We offer an eco-conscious option, and when all this is over, you'll find plenty of ways to use our MG Sun Mask doing the things you love.
You can DIY your own: cloth face masks can be made at home from common materials.
Surgical masks
Surgical masks are disposable, loose-fitting face masks that covers the nose, mouth, and chin.
The top of the surgical mask contains a metal strip that can be formed to your nose. The sides of the surgical mask have elastic bands or ties that loop behind your ears or tie behind your head to hold the mask in place.
They are used to protect healthcare providers from sprays, splashes, and large-particle droplets and prevent the spread of potentially infectious respiratory secretions.
N95 respirators
N95 respirators are respiratory protective devices designed to form a tight seal on the face, making them very efficient in filtrating airborne particles.
The 'N95' designation means that when subjected to careful testing, the respirator blocks at least 95 percent of very small particles.
The respirators protect healthcare providers from splashes, sprays, large droplets and can also filter out of very small particles.
N95 respirators aren't one-size-fits-all, they actually have to be fit-tested before every single use to make sure that a proper seal is formed and the user can have the appropriate protection.
Takeaway
The CDC recommends wearing cloth face masks in public places, especially in areas of significant community-based transmission, like grocery stores and pharmacies.
Cloth face masks should be worn while continuing to practice social distancing and proper hygiene guidelines.
There is a shortage of surgical masks and N95 respirators healthcare workers and medical 1st responders urgently need them, so they should be reserved for hospitals and those on the frontline of the coronavirus pandemic.
take action
If you have unused surgical face masks or can make cloth face masks, donate them to those who need it most.
Masks For Heroes is working to end the global shortage of personal protective equipment during the COVID-19 pandemic by facilitating global donations to health care workers on the frontlines.
They have an interactive map where you can find the hospitals and facilities near you that need them.
Remember individually we are but one drop, but together we are an Ocean. And together is how we will get through this.
Take care of yourself and your loved ones.
Be the first to know about new arrivals, exclusive sales, inspiring stories and more!